Join Girls Rock Camp Houston for the 2022 End of Camp Showcase! Come support all of our campers by watching them perform the songs they wrote this week. It is an incredible one week journey for our campers, so come celebrate their achievements. This is also our biggest fundraiser of the year!
Hosted by very special guests, the women of the legendary punk band Mydolls, Linda Younger, Dianna Ray and Trish Herrera.
Doors at 5:00
Show at 6:00
$10 Cover
All proceeds benefit Girls Rock Camp Houston
---
Girls Rock Camp 2022 Registration is now closed.
We are excited for all of our registered campers this year.  Volunteer and Junior Volunteer sign-up is still available.  See you in August!
---
Girls Rock Camp 2022  is here!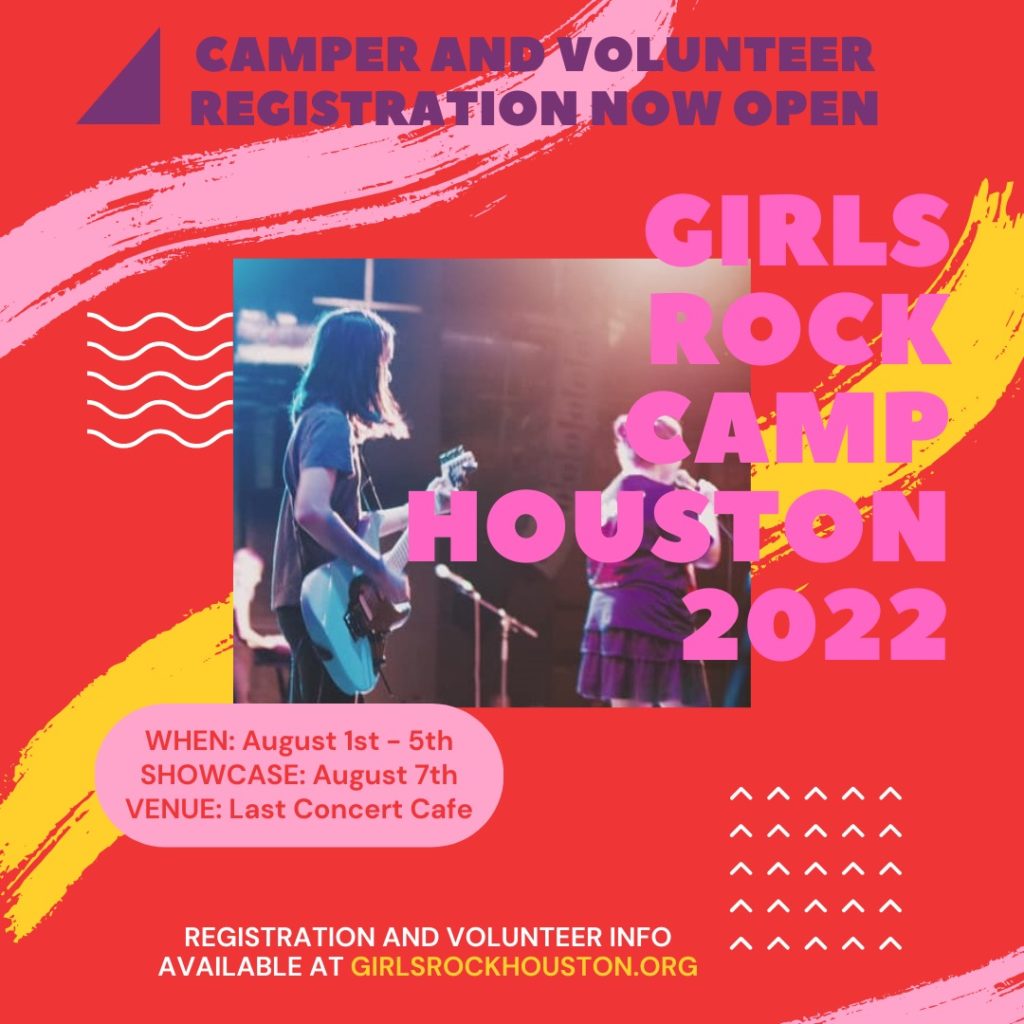 Registration for the 2022 Girls Rock Camp Houston is now open!
Camp dates are Monday, August 1st – Friday, August 5th, 2022 at MECA Houston (1900 Kane St, HTX 77007).
General camp hours are Monday through Friday from 9am – 5pm. Saturday is a day off. The End of Camp Showcase is scheduled on Sunday, August 7th 2022 at Last Concert Cafe with sound check at 4pm and the showcase at 6pm.
REGISTRATION INFORMATION:
Campers must be between the ages of 8 – 18 years old.
Registration fee is $350.  There is a $125 non-refundable* deposit due at the time of registration.  The remaining $225 is due by June 30, 2022.
Registration is first come, first serve.
Registration deadline is June 30, 2022.
---
GRCH Virtual Camp 2021 Camper Registration is NOW OPEN!
Don't be afraid to be weird this summer, July 26th-30th, 2021
Campers must be 8-18 years old to attend.
Registration deadline is Friday July 23, 2021.
Pay what you can — we want everyone to be able to experience camp week with us and all the rad programming we have planned for you.
Please click the link below for the registration form and t-shirt info. We can't wait!
https://docs.google.com/forms/d/e/1FAIpQLSe0NkTuE-Ld64FH2-co7EhcEf9Qdh0–CFuqu0Ny0Pf8ayt5Q/viewform
Girls Rock Camp Houston Digital 2020

Please join us for a week of digital content on our youtube page!  We can't wait to share it with you.  Missing all of our camper family and hope that everyone is staying safe.
2020 Update from Girls Rock Camp Houston:
It is with heavy hearts that we let you all know that we had to make the difficult decision to not hold an in-person session this summer. Due to health and safety concerns of our campers and volunteers, it is becoming more and more apparent that the best thing we can do is stay home and plan for next summer. Our coordinators team is hard at work planning online content to offer free of charge for anyone interested in summer activities.
To parents who already registerd for camp: unless otherwise instructed, we will process refunds at the beginning of this week.
Thank you to our wonderful community for all the support the last ten years. We have never missed a camp season but these are unprecedented times. However, We will be back next summer STRONGER THAN EVER.
Best,
Girls Rock Camp Houston
———————————————————————————————————-
We are going to get some much needed rest.  See you in 2019!
DON'T BE AFRAID TO BE WEIRD.
——————————————————————————————————————–
GIRLS ROCK CAMP HOUSTON 2018 SHOWCASE IS TODAY, SUNDAY, JULY 29, 2018!!!!
Doors at 4 pm, show at 5.
The campers wrote some of the most brilliant, funny, powerful, and introspective songs this year. Be ready to cry, dance, and smile.
$10 cover. Kids under 8 get in free.
White Oak Music Hall, 2915 N. Main St, Houston, TX 77009
______________________________________________________________________
CAMPER REGISTRATION AND VOLUNTEER REGISTRATION FOR GIRLS ROCK CAMP HOUSTON 2018 IS NOW OPEN!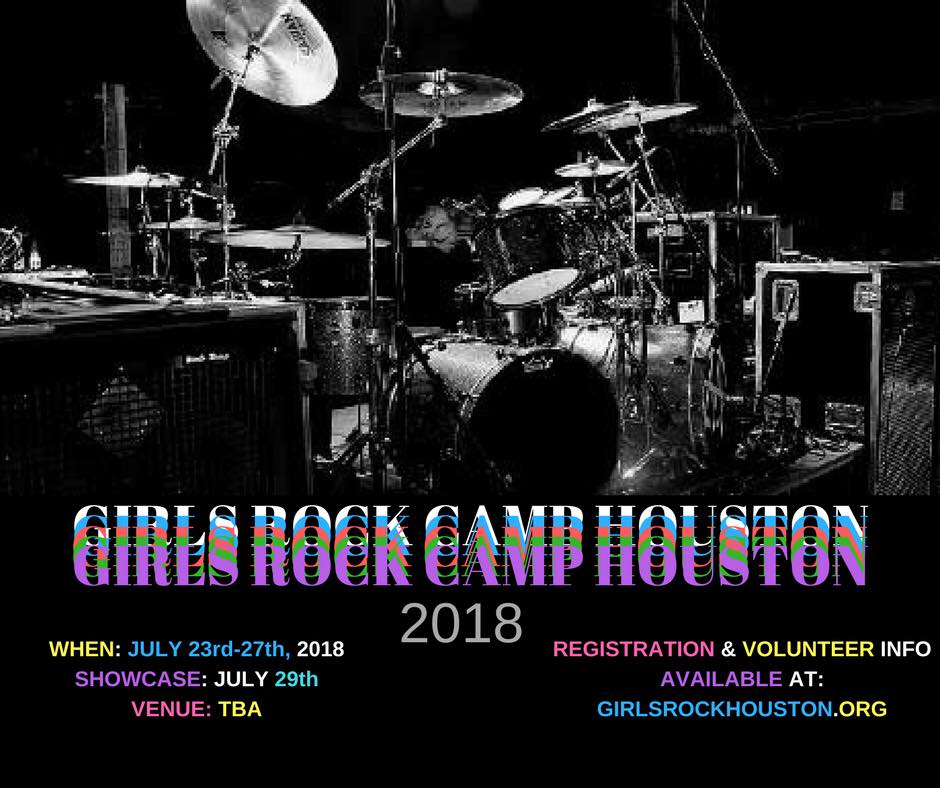 ——————————————————————————————————————–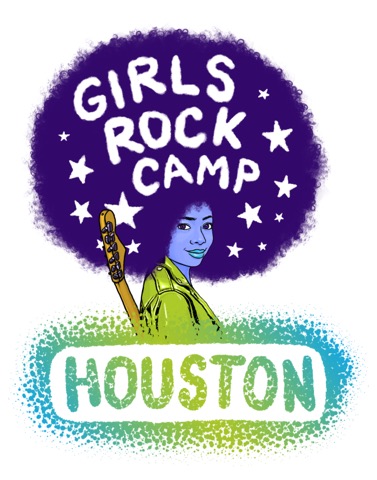 *——————————————————————————————————————*
Registration for campers and volunteers is officially open!!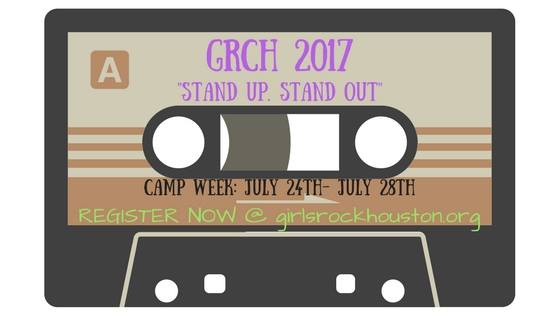 THIS JUST IN: OFFICIAL 2017 CAMP WEEKS DATES ARE SET!
2017 Camp Week will held from July 24 – 28, 2017 at MECA (1900 Kane St. HTX 77007)
2017 Camper Showcase will be held July 30; venue TBA.
Support Girls Rock Camp Houston
Saturday, September 5, 2015 at Royal Oak 1318 Westheimer Rd, Houston, Texas 77006
FUNDRAISER ALERT:
Do you like live music?
Shopping from local vendors?
Sampling the finest local food?
Support Girls Rock Camp Houston by attending First Saturdays Montrose this Saturday (September 5, 2015) at Royal Oak (1318 Westheimer Rd, Houston, Texas 77006).
Please visit the dunking booth because all proceeds from the dunking booth will go towards Girls Rock Camp Houston.  Help us get a head start for Girls Rock Camp Houston 2016.  GRCH is an all volunteer based organization.  All funds go directly to programming, gear, scholarships, rental space, etc.
The first Saturday of every month Royal Oak and Doc's Bar & Grill Houston will be hosting First Saturdays Montrose, a parking lot party featuring savory & sweet bites, live music, local vendors and adult-friendly activities!
It kicks off Saturday, September 5th, 12 – 6 pm.
Head over to Doc's and Royal Oak's parking lots for all sorts of ridiculous fun!
Live Music by:
Jerk & United Waves
DJ Sets by:
children of pop
Promenade
Vendors:
Chocolate Wasted Ice Cream
Blue Line Bike Lab
Fresh Prints of Houston
Shoe Bar Houston
Black Sheep Parlor
Friohana Shave Ice
Catacomb HTX
Night Owls Print Shop
Needful Things
Milk + Honey Vintage
Eyesore Merch
Tiny Deer Studio
Traci lavois
M!ecstatic
Bravado Spice
Activities:
Mechanical bull
Dunking Booth w/ proceeds going to Girls Rock Camp Houston
Tarot Card readings
DIY water balloon station
DIY water gun station
Pampering station (get your nails did)
Sponsored by:
Absolut
Catacomb / Milk + Honey Vintage
Red Bull
Shiner Bock
Tito's Vodka
TabbedOut
8th Wonder Brewery
Disclaimer: The event is all ages but please keep in mind that the event is located outside a bar.
_____________________________________________________________________________
Thanks to all of our coordinators, volunteers, supporters, donors and especially to our campers for making 2015 our best year yet!
Join Girls Rock Camp Houston for the 2015 End of Camp Showcase at Walter's Downtown, starting at 4pm on August 2! Come rock out with all of our talented campers as they perform the songs they wrote with their bands during camp week. Not only is the showcase ALWAYS super fun & inspiring, it's also our biggest fundraiser of the year! Every dollar earned at the door goes right back to supporting next year's camp!
RSVP on Facebook by clicking here! – Doors at 4pm – Show at 5pm – $10 Cover – 100% of sales at the door will benefit Girls Rock Camp Houston!
Girls Rock Camp Houston has partnered with Houston-area ceramics artist Angel Oloshove to create these LIMITED EDITION WHITE & GOLD "GIRLS ROCK" ceramic buttons, available HERE! Just click the Donate button to the right of the homepage and submit a donation of $30 or more (a minimum of $25 plus $5 for s&h) and we'll mail you this beautiful ceramic button with a special thank you while supplies last!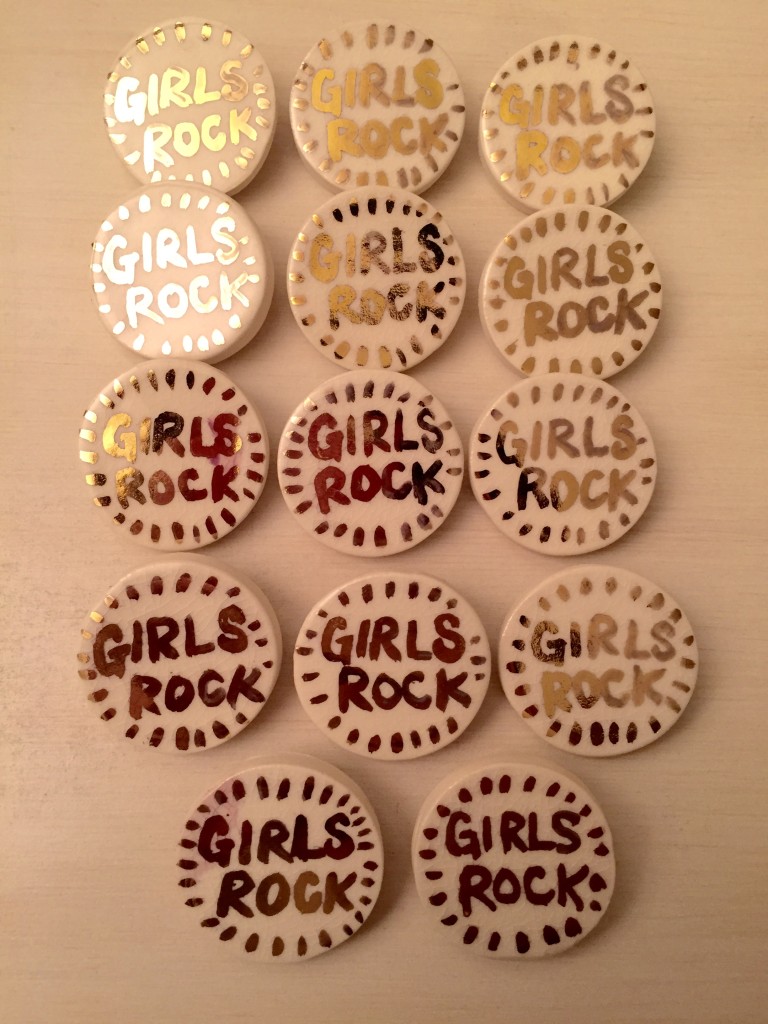 Girls Rock Camp Houston, in collaboration with other organizers in the Houston area, has decided to take action in response to the Free Press Summer Fest 2015 Line-Up Announcement by asking Free Press Houston to cancel R. Kelly's performance. For updates on how we are taking action and how you can help, please refer to our Facebook page. 

Special Announcement: Girls Rock 2015 Camp Week Dates have been locked in!
Camp Dates: July 27-July 31, 2015 at MECA & Annual Showcase Date: August 2, 2015. Venue: Walter's Downtown.
Registration and volunteer opportunities are now open!
To register and make payment online, click on the "Register now" button below. The deadline for registration is July 1.
Wanna volunteer for GRCH? We have lots of musical and non-musical volunteer opportunities available. Click on the "Volunteer" tab on the menu bar and fill out our easy online application.
In the meantime, come out for our Wild at Heart Valentine's Day Dance Party w/ a few awesome bands doing live covers and Fistful of Soul + Seize the Beat DJs Andy V and Jae! Saturday, Feb. 14th at Alley Kat Bar (3718 Main Street), doors at 9pm, bands at 10pm, cover is $5, 21+ ONLY please!!

Come out and party with GRCH for the Wild at Heart Valentine's Day Bash on 2/14 at Alley Kat Bar & Lounge! All proceeds from the door and a portion of the bar go directly to funding our 2015 camp activities!
Events: Happy New Year to all of our friends! We've got a ton of awesome events in store for 2015! Please check our site regularly, as well as our Facebook and Instagram accounts for frequent updates!
Volunteer With Us: Our volunteer application is currently closed for the 2015 session. Please check back soon for announcements regarding our volunteer application process!
2015 Camp Registration: Registration Dates for the 2015 Girls Rock Camp Houston will be announced soon! Thank you for your interest in empowering young girls through music education. We are looking forward to a great 2015 Session and can't wait to tell you more as soon as possible!